Stellar blockchain has built-in decentralized exchange (DEX) feature which allows users to buy and sell Stellar tokens / assets. There are many user interfaces that have been built by developers to take advantage of this. The first such Stellar decentralized exchange was StellarPort.io which was followed by Stellar Term.
Top Stellar decentralized exchanges of 2020
1. Stellar Port
Stellar Port is most feature-rich Stellar decentralized exchange. It has fast and intuitive user interface. Other than XLM and Stellar tokens, StellarPort also lets you trade Bitcoin, Ripple, Litecoin and Ethereum with XLM and other tokens.
You can also use Stellarport to manage Stellar Lumens (XLM) and tokens stored in Ledger Nano and Trezor hardware wallets.
Stellar Port is now owned by Litemint LLC, which also has built-in exchange.
2. Stellar Term
Stellar Term offers an extremely simple-to-use user interface. It recently underwent a substantial upgrade that brings updated UI, trade history, bar charts and so on. Like StellarPort.io, Stellar Term offers support for hardware wallets like Ledger Nano S/X and Trezor.
It is also the only Stellar DEX that is listed on CoinMarketCap, which is biggest price tracking website. Stellar Term is also available as standalone desktop application. We hope to see Android and iOS apps in future.
3. Inter Stellar
Inter Stellar offers simple and intutive UI for trading Stellar tokens. Like Stellar Port, Inter Stellar lets you trade non-Stellar coins like Bitcoin, Ethereum, Ripple and so on. It has Ledger hardware support though Trezor wallet is not yet supported.
Since its inception, it has undergone myriad upgrades and with its recent win on Stellar Community Funds, we have high hopes for this project.
InterStellar app is available for all platforms – Android, iOS, Windows and Mac. This project is also one of winners of Stellar Community Fund round #5.
4. Nice Trade
Nice Trade was one of winners from 4th Stellar Community Fund. All assets are auto-listed and ranked by liquidity and volume.
This is the first Stellar decentralized exchange that lets you trade directly using your Keybase account. Trading using hardware wallets (Ledger Nano, Trezor) is not yet supported though, but since this is still a fairly new project, we are expecting ton of new features in coming months.
Nice Trade is also working on social trading features and competitions to bring more interest to Stellar decentralized exchanges and improve its liquidity.
5. StellarX
StellarX is very user-friendly Stellar DEX with fiat gateway. It is the only DEX on this list that lets you deposit and withdraw fiat currencies. You can trade on its website or mobile applications, which are available for both iOS and Android.
It also features Trollbox, a chat window where users can anonymously chat with each other. We would like to see StellarX listed on CoinMarketCap.
6. Litemint
Litemint is a gaming-centric Stellar wallet, which lets you trade both fungible and non-fungible Stellar tokens. It's not as feature-rich as aforementioned exchanges but gets the job done.
You can play and trade gaming, non-fungible tokens (NFT) as-well-as normal Stellar assets using its built-in exchange. Litemint is available for iOS, Android and also as web app, whcih can be used in any web browser.
7. Lobstr
Lobstr is an amazing XLM wallet with best-in-class support for Stellar tokens / assets. You can see value of these tokens right on its main screen. You can buy / sell tokens and even place limit buy and sell orders.
Lobstr wallet is extremely feature-rich and supports multi-signature functionality as well when used with Lobstr Vault. The team behind Lobstr is extremely talented and frequently pushes out updates.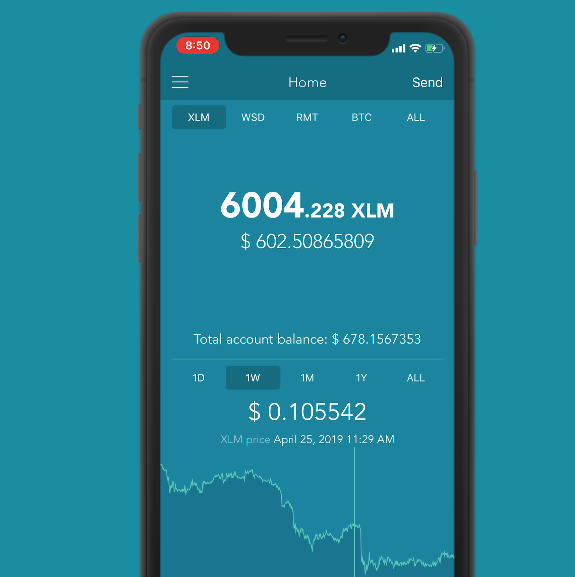 8. Solar Wallet
Solar Wallet is an excellent wallet for storing Stellar Lumens and Stellar tokens. It also lets you buy and sell these tokens. Solar's trading UI is much simpler and lacks advanced features that Lobstr offers.
9. Lumenswap
Lumenswap provides easiest way to swap XLM to your favorite Stellar asset and vice-versa. It provides two user interfaces – one is very similar to what you find on uniswap exchange and second one is similar to generic cryptocurrency exchange which is more tailored for advanced users.
This user interface gives you access to order book, trading view chart, market trading history and so on.
There are few other Stellar decentralized exchanges and wallets with DEX functionality, but since they are no longer being maintained or pushing out updates, they are not listed here. If you think we missed any, let us know in the comment section below.